Buy 500mg Stoney Patch Gummies-Sour Cyclops Gummies Online!
Sour & Sweet, then Stoned! 500mg Stoney Patch Gummies-Sour Cyclops Gummies are made using Delta 9 distillate for impeccable consistency and extra strength potency. Each package contains 500 mg of THC. We encourage you to enjoy with caution and recommend you start with a small dose to avoid getting carried away – we know they're delicious! May contain tree nuts, peanuts, or soy. Buy Stoney Patch Gummies Online!
How many Stoney Patch Gummies should I eat?
For beginners, it's best to start with 1-2 gummies and see how you feel after an hour before gradually increasing your dosage. In short, Stoney Patches are safe as long it's being consumed responsibly.
Positive effects:
think of Stoney patch as one of the most advanced hybrid edibles. These are medical grade and will get you feeling euphoric, relaxed and out of this world when consumed the appropriate dosage.
How long do Stoney patch edibles take to kick in?
How long does it take before you begin to feel the effects of edibles? Edibles typically take around 30 to 60 minutes to kick in.
Do Stoner Patch Gummies work?
Stoney Patch gummies do work and are heavy hitters once THC enters your bloodstream. All in all, they're sour; then they're sweet… then you're stoned. Stoner Patch Dummies 500mg edibles are by no means a low dosed edibles treat, kids and minors alike have no business consuming these THC infused edibles.
BUY 500MG THC INFUSED SWEET, We infused 500mg THC into the sweet, fruity, and sour deliciousness of Stoney Patch and made them more bite sized for your on-the-go cannabis experience in Washington D.C. Now you can share the Sour and Sweets in each bite with your friends  or don't! The entire package contains a total of 500mg of THC and 10 gummies, with each gummy containing 50mg of premium THC. Perfect for precise and custom dosing… depending on the trip you want to have!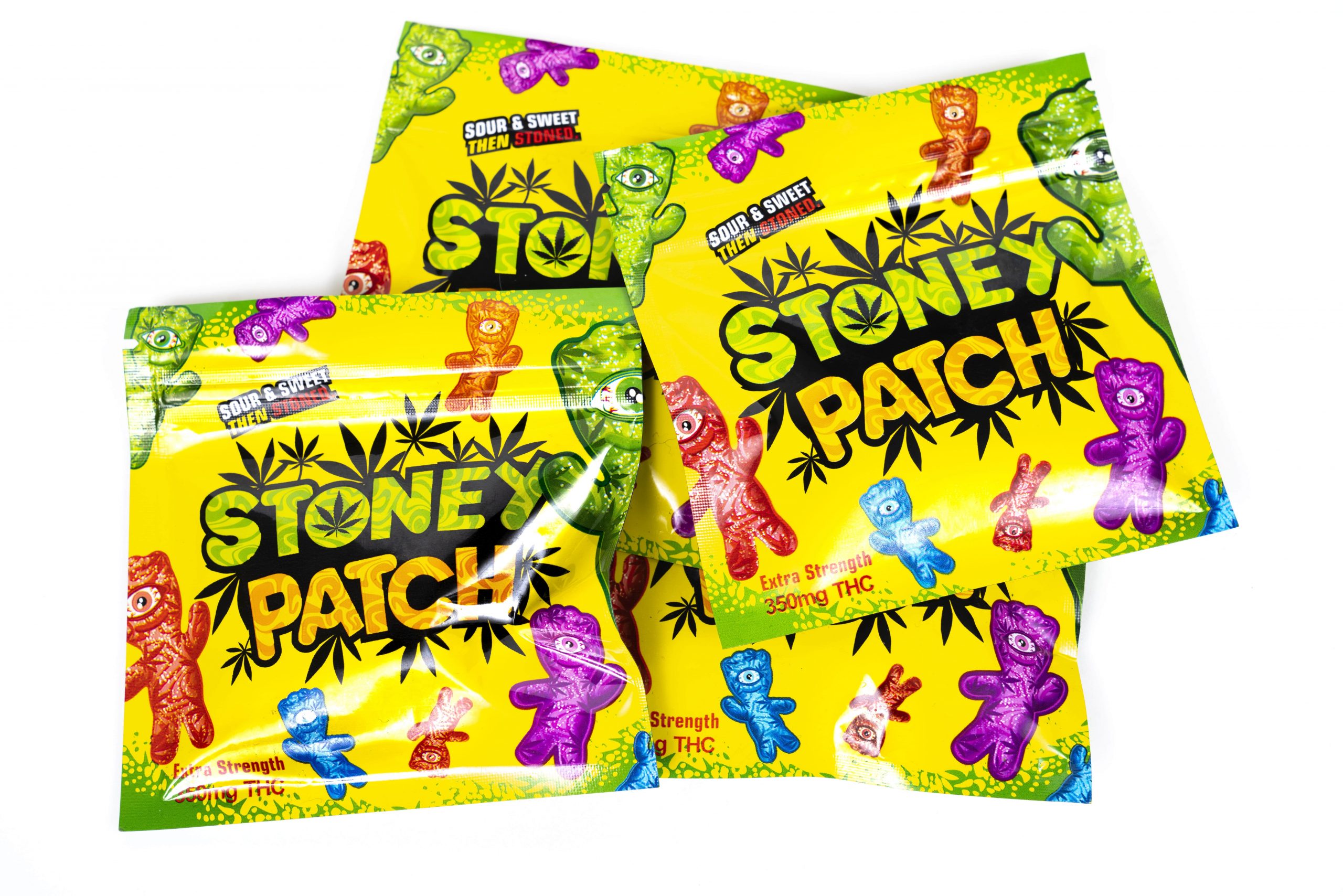 Get Stoney Patch Gummies-Sour Cyclops Gummies online today from The Green Weed Farm and we'll ship your products to you quickly and discreetly. The Green Weed Farm is your home for high-quality bud and marijuana products. If you need assistance finding the right strain for you, please contact us and we'd love to help you!